A Great Replacement for Google Reader
07 November 2013
Being able to consume RSS feeds online via Google Reader was awesome. One of the greatest things about Google reader was the ability to centralise your personal pool of RSS feeds. With Google Reader it was possible for some of the best RSS reader apps to synchronise with that pool. Finding a replacement to Google Reader that is as cool now that Google reader has gone has been difficult. However, I have finally found a replacement worth shouting about.
Tiny Tiny RSS is a Worthy Replacement
The replacement RSS reader that I have found is a self-hosted open source project named Tiny Tiny RSS. Tiny Tiny RSS is specifically designed to allow you to read your RSS feeds from any ware just like Google Reader was.
With Tiny Tiny RSS your RSS feeds are safely tucked away behind a login screen. They are tucked away on a URL where you put them. And I found it all simple to set up.
Once it is up and running you can access all of your feeds via a web browser and via apps. I will get to apps soon. Also, as an added bonus, in the Firefox web browser you can 'one click' subscribe to new feeds once you have enabled the Tiny Tiny RSS Firefox button. I think that is cool.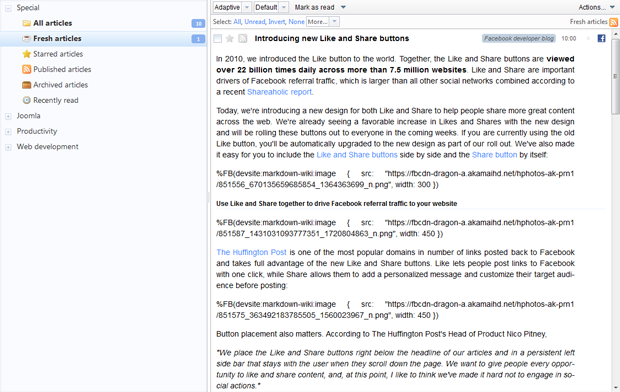 The Tiny Tiny RSS User Interface
Tiny Tiny RSS has a nice desktop style user interface that is Ajax driven. I have been finding my way around its user interface quite well so far. I haven't found any major user interaction defects yet.
The user interface provides a substantial preference area too. Its defaults have been chosen well as I have not needed to play with the preferences very much yet.
I found the user interface to be slightly slow in loading but, I admit, I haven't tweaked with anything server side.
RSS Reader Apps
Online browser-based tools are great but, as you know, sometimes you need an app for that. On Google play there are several RSS readers that interact with Tiny Tiny RSS's API. I checked out an app called 'Tiny Tiny RSS' itself. But there are many more apps listed including free ones.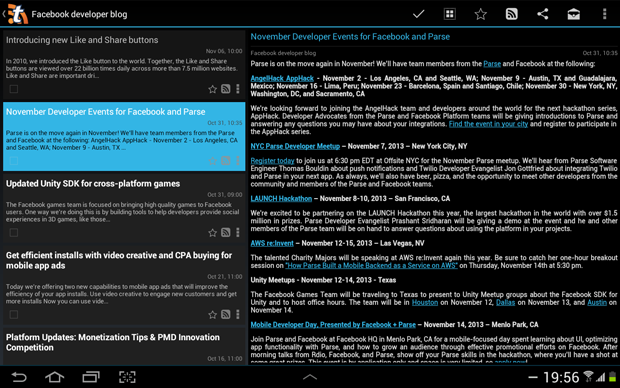 The Tiny Tiny RSS app works great. Once I provided my login details all the feeds that I have subscribed to via the web browser interface were instantly available via the Tiny Tiny RSS app.
Conclusion
I am totally sold on Tiny Tiny RSS as a replacement for Google Reader. For anyone who is confident with installing and self-hosting their own RSS reader software; I highly recommend Tiny Tiny RSS.
Why not subscribe to my RSS feed once you have Tiny Tiny RSS up and running for yourself? Thanks for reading this post.
You can get more information over at the Tiny Tiny RSS's project website tt-rss.org.